The Association
Amigos de Milord is an non government and non profit organization which was founded in September of 2006 to fulfill a huge need to help animals, in particular galgos, in the capital city of Palencia. Our work is especially dedicated to helping abused animals, with serious wounds and conditions, some of them apparently irrecoverable.
Since our founding, we have survived through the financial contributions made to Amigos de Milord by individual donors, as well by other associations, solely because we receive no help or subsidies from official entities.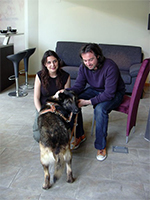 Milord is a German shepherd who spent months crawling about in an open field in a village near Palencia. The now president of Amigos de Milord, along with the help of those who today are founding members, normal citizens on foot, were able to rescue Milord. The story of Milord reached all the way around the world, and hundreds of people wanted to help financially in the recovery of the dog. Because of this, a chain of people from all parts of the world was created, and without knowing one another, they united for a common cause, to save the life of Milord.
Since then, Amigos de Milord has been taking charge of animals in very poor states of health from all parts of Spain, as we are now a nationwide association.
The animals are kept at boarding kennels and in foster homes, as presently we do not have an actual shelter.